With the experience of more than 20 years
Arnie has jotted down some most requested songs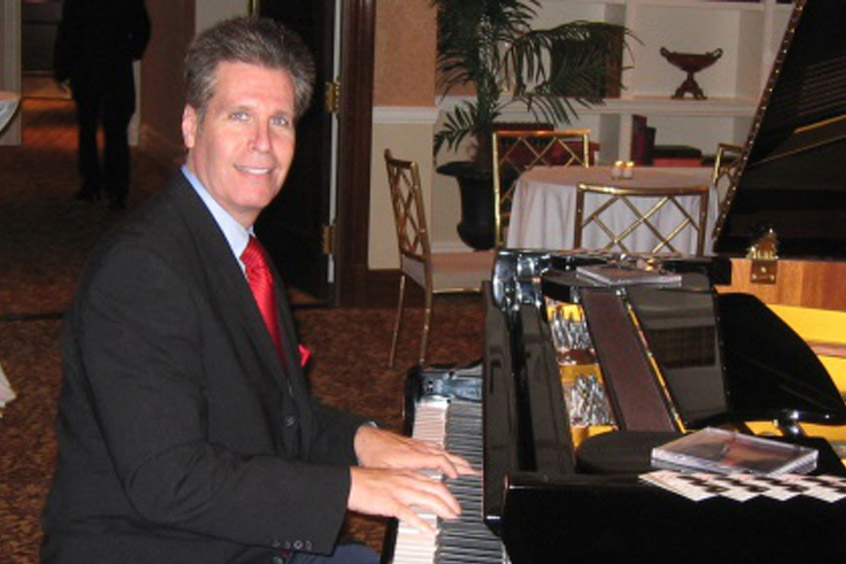 The Music With Arnie
---
If you are looking for a Philadelphia pianist who is talented, versatile and professional, check out Arnie's short list of his most requested songs. He knows over 600 songs by memory (no sheet music needed), and is always anxious to learn new songs if you have a favorite in mind for your wedding, party, or any event where live music is desired.
Praised for his "versatility and imaginative performances" by the Philadelphia audience, top prize winning classical pianist and recording artist Arnie Abram has performed his best in Philadelphia, new jersey and in New York. Arnie has performed extensively in weddings, engagement parties, cocktail parties, birthday parties, business meets parties and many more. Anniversary party lives music Philadelphia is very pocket-friendly than you may think. Arnie is an awesome pianist and makes the occasion worth memorable by his extremely amazing piano music. He adds extra festive touch whether it's a wedding or a birthday party you will feel so good after listing to his melodious music.
If you are looking for live music Philadelphia then you are in the right place. Arnie is your key to the best live music for you and your most important guests. If you are searching for the best pianist who can make your wedding, birthday, anniversary, engagement ceremony, and cocktail party memorable and extremely amazing then Arnie is the clear solution he can make the night charming and worth by his supremely talented music. Apart from this if you want to hear your favorite song, you just have to tell Arnie and he will play for you whether it's from the 60s or 90s or latest Arnie has all latest and old collections. So what are you waiting for book him now and make your occasion worth remembering.
Ain't She Sweet
Aja
Alexander's Ragtime Band
All About Soul
All By Myself
Angel Eyes
An Innocent Man
Autumn in NY
Bad Day
Ballad of Billy The Kid
Beatles Tunes
Begin the Beguine
Bennie & The Jets
Billy Joel Tunes
Breathe (2 am)
But Not For Me (Gershwin)
Cabaret
Camelot Medley
Can You Read My Mind?
Candle In The Wind
Cole Porter Songs (many)
Could It Be Magic
Darktown Strutters Ball
Desperado
Don't Know Why (Norah Jones)
Don't Let Me Be Lonely Tonite
Don't Let the Sun Go Down On Me
Elton John Tunes
Embraceable You
Etude in Eb (excerpts)
Evergreen
Fire & Rain
Fly Me To The Moon
For You, For Me, Forevermore (Eb)
Funeral For A Friend
Gershwin Medley (Rhapsody/Am In Paris)
Gershwin Tunes
Girl From Epanema

Girl Of My Dreams
Goodbye Yellow Brick Road
Hernando's Hideaway
Hotel California
How Can You Mend A Broken Heart
I Honestly Love You
I Left My Heart (in San Francisco)
I Think I'll Hang My Tears Out To Dry
It Had To Be You
It's Too Late
Jealosy
Johnny Be Goode
Just the Way You Are
Killing Me Softly
Layla
Levon
Liebestraum
Love Me Tender
Lucy In The Sky With Diamonds
Mandy
Maple Leaf Rag
Masquerade
Maybe I'm Amazed
Melancholy Baby
Millitary Polonaise (excerpts)
Misty
My Life
My Way
My Ship
New York State of Mind
New York, New York
On a Clear Day
On the Street Where You Live
Only Fools Fall In Love (Wise Men Say)
Over The Rainbow
Pathetique Sonata (excerpts)-1st & 3rd
Pennies From Heaven
Phantom Of the Opera

Piano Man
Rikki Don't Lose That Number
Rocket Man
Saturday In The Park
Scenes From An Italian Restaurant (Excerpts)
She's Always A Woman To Me
Sinatra Tunes
Solace
Someone Saved My Life Tonite
Someone to Watch Over Me
Sorry Seems To Be The Hardest Word
Standards
Stand By Me
Stardust
Streetlife Serenader
Strangers In The Night
Summer, Highland Falls
Take Me To The Pilot
Tarantella
The Entertainer
The Godfather
The Night The Lights Went Out On Bdway
The Stranger
The Very Thought of You
The Way We Were
The Way You Look Tonite
They Can't Take That Away From Me
Theme from Cats (Memory)
Theme From Ice Castles
Theme from Somewhere In Time
Ticking
Time
Tiny Dancer
Too Broken Hearts
Volare
When I'm 64
You Are Too Beautiful
You Ought To Be In Pictures
You're 16, You're Beautiful & You're Mine
Your Song